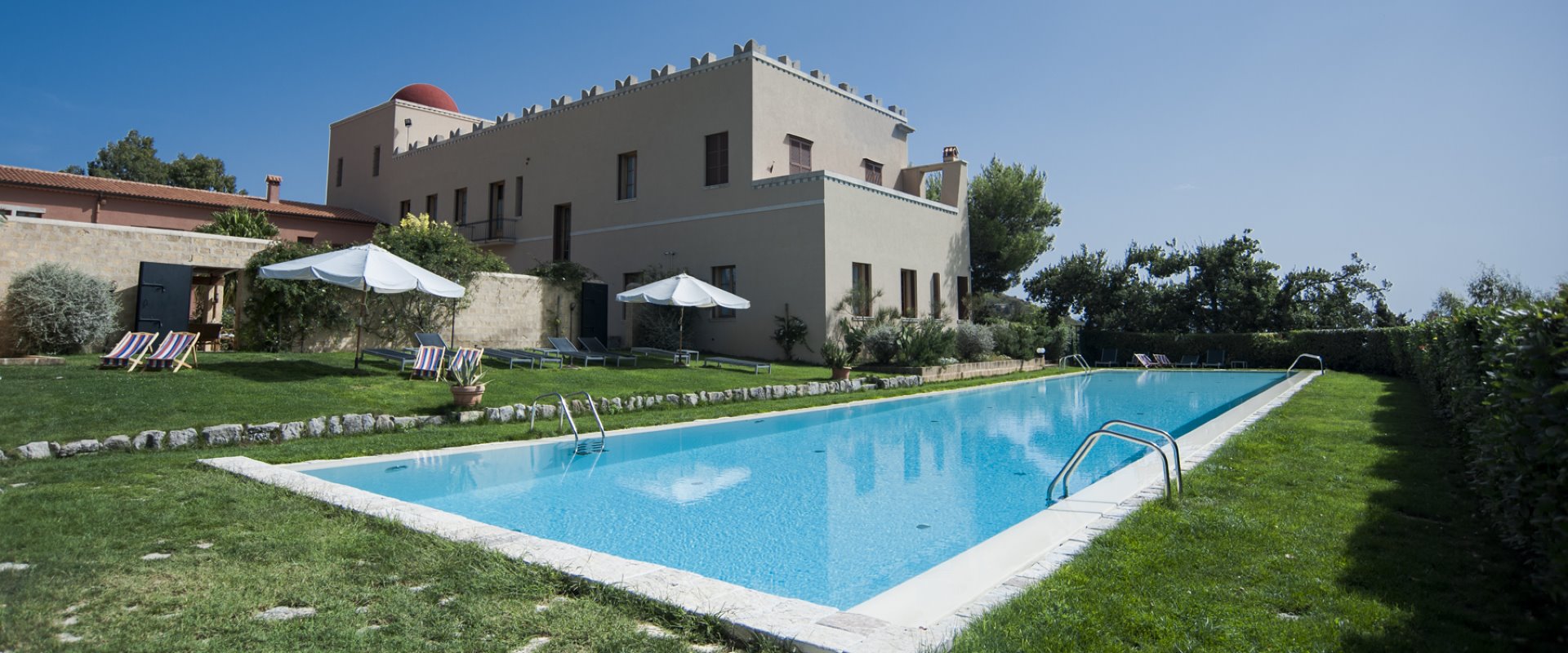 Enchanting places, unforgettable moments
Nestled in the hills of Santa Cristina Gela, Agrirelais is the home of Baglio di Pianetto. A corner of Sicily between vineyards and olive groves, intimately linked to its traditions. A love recognizable in the attention to every detail, such as the hemispherical dome that recalls that of San Giovanni degli Eremiti in the historic center of nearby Palermo, a symbol of Arab-Norman architecture. The large lounges, the welcoming reading room and the bright veranda overlooking the garden allow all guests to find a comfortable and suitable environment for their needs. The rooms (each furnished according to its own identity) overlook the vineyards and hills, or otherwise look towards the olive groves of the estate.
Rooms
13 Rooms: Deluxe Room - Superior Room - Junior Suite - Family Room - Romantic Suite with terrace
Facilities
Air conditioning - Mini-Bar - Safe deposit box - Wi-Fi - TV
Services
Swimming pool - Patio - Garden
Extra
Cooking Class - Wine tasting - Trekking - Horse Riding
Tasty Food
Delicius Wine
and Great Relax
The restaurant is always happy to welcome and tempt guests with typical Sicilian culinary dishes, offered in combination with Baglio di Pianetto wines. The very spirit of sharing finds a total dimension with us: Vineyards, Cellar and Relais are one, inseparable, and spectacular. The care of food and wine pairings, the delicacy of a cuisine attentive to the quality of raw materials and a thoughtful and discreet service make this place an exclusive residence of wine in Sicily. The visit of the vineyards and the cellar is an experience not to be missed.
Discovering Sicily
Palermo has managed to preserve the traces of past civilizations: Phoenicians, Romans, Byzantines, Arabs, Normans, Swabians, Angevins and Spaniards, they all left their visible mark in the art and life of the city. There are many sights worth visiting in the province of Palermo alone, we recommend Monreale, Bagheria and Cefalù and the Madonie Park. Less than an hour's drive from the estate, the region offers sites and destinations to suit all interests: archaeology, nature, seaside resorts, food and wine.